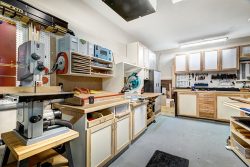 A cluttered and disorganized garage can make it challenging to find tools, equipment, and other essentials when you need them. Investing in high-quality garage cabinets can be a game-changer, transforming your garage into an organized and functional space. But with so many options available, how do you choose the right garage cabinets for your needs? In this blog post, we'll explore the key factors to consider when selecting garage cabinets to help you make an informed decision.
1. Assess Your Storage Needs
Start by assessing your storage requirements. Take inventory of the items you have and plan for future storage needs. This will help determine the size, type, and number of cabinets you'll need. Consider the dimensions of your garage and the available space. Take note of any unique storage needs you may have, such as storing large equipment or tools. By understanding your storage needs upfront, you'll be better equipped to select cabinets that meet your requirements.
2. Consider Cabinet Construction and Durability
Garage cabinets should be able to withstand the demands of a garage environment, which can include temperature fluctuations, moisture, and heavy items. Look for cabinets made from sturdy materials such as steel or high-quality wood. Pay attention to the cabinet's construction, including the quality of joints, hinges, and hardware. Opt for cabinets with solid construction and durable finishes that will withstand the test of time and provide long-lasting functionality.
3. Evaluate Cabinet Style and Design
Garage cabinets come in various styles and designs to suit different preferences and aesthetics. Consider the overall style of your garage and choose cabinets that complement the space. Decide whether you prefer wall-mounted cabinets, floor-standing cabinets, or a combination of both. Wall-mounted cabinets can help save floor space, while floor-standing cabinets offer additional storage and surface area. Additionally, think about the color and finish of the cabinets and how they will blend with your garage's color scheme.
4. Focus on Storage Features and Functionality
Different cabinets offer various storage features and organizational options. Look for cabinets with adjustable shelves or modular components that allow you to customize the storage space to fit your needs. Consider cabinets with integrated pegboard or slatwall systems that provide additional organization and allow for easy hanging of tools and accessories. Drawers, bins, and pull-out trays are also useful features to consider, as they help maximize storage capacity and keep smaller items organized.
5. Prioritize Safety and Security
Garages often store valuable items, tools, and hazardous materials. Therefore, it's crucial to prioritize safety and security features when choosing garage cabinets. Look for cabinets with sturdy locks or the ability to add padlocks or bolt locks to keep your items secure. Cabinet doors with reinforced edges provide added strength and durability. Consider cabinets with adjustable leveling feet or wall mount brackets to ensure stability and prevent tipping or accidents.
6. Set a Budget and Consider Long-term Value
Before making a final decision, it's important to set a budget for your garage cabinets. Assess your budget while considering the factors mentioned above, such as construction quality, storage features, and functionality. Keep in mind that while cheaper cabinets may seem enticing initially, they may not offer the same level of durability and functionality as higher-priced alternatives. Consider the long-term value and return on investment of your chosen cabinets, as high-quality cabinets will likely last longer, saving you money in the long run.
Conclusion
Choosing the right garage cabinets is essential for maximizing storage space, organizing your belongings, and optimizing the functionality of your garage. Assess your storage needs, consider cabinet construction and durability, evaluate the style and design, focus on storage features and functionality, prioritize safety and security, and set a budget while considering long-term value. By keeping these factors in mind, you'll be able to select the ideal garage cabinets that meet your requirements and help transform your garage into an organized and efficient space.
Got Questions? Let Us Help!
Welcome to Tri City Remodeling! Tri City Remodeling is a family owned and operated remodeler that is ready to help you build the home of your dreams! We are committed to our service and our team only consists of dedicated craftsmen with decades of experience. From interior remodeling in bathrooms or kitchens to decks and siding remodeling, we can do it all! We are proud recipients of the Top 500 Remodeler's Award as well as members of the Home Builders Association. Call us today to start your project!
Categorised in: Garage Cabinets
This post was written by admin